Aftermarket arm-wrestle: breaking the hold of the world's big brands "REGULATORY RUCKUS"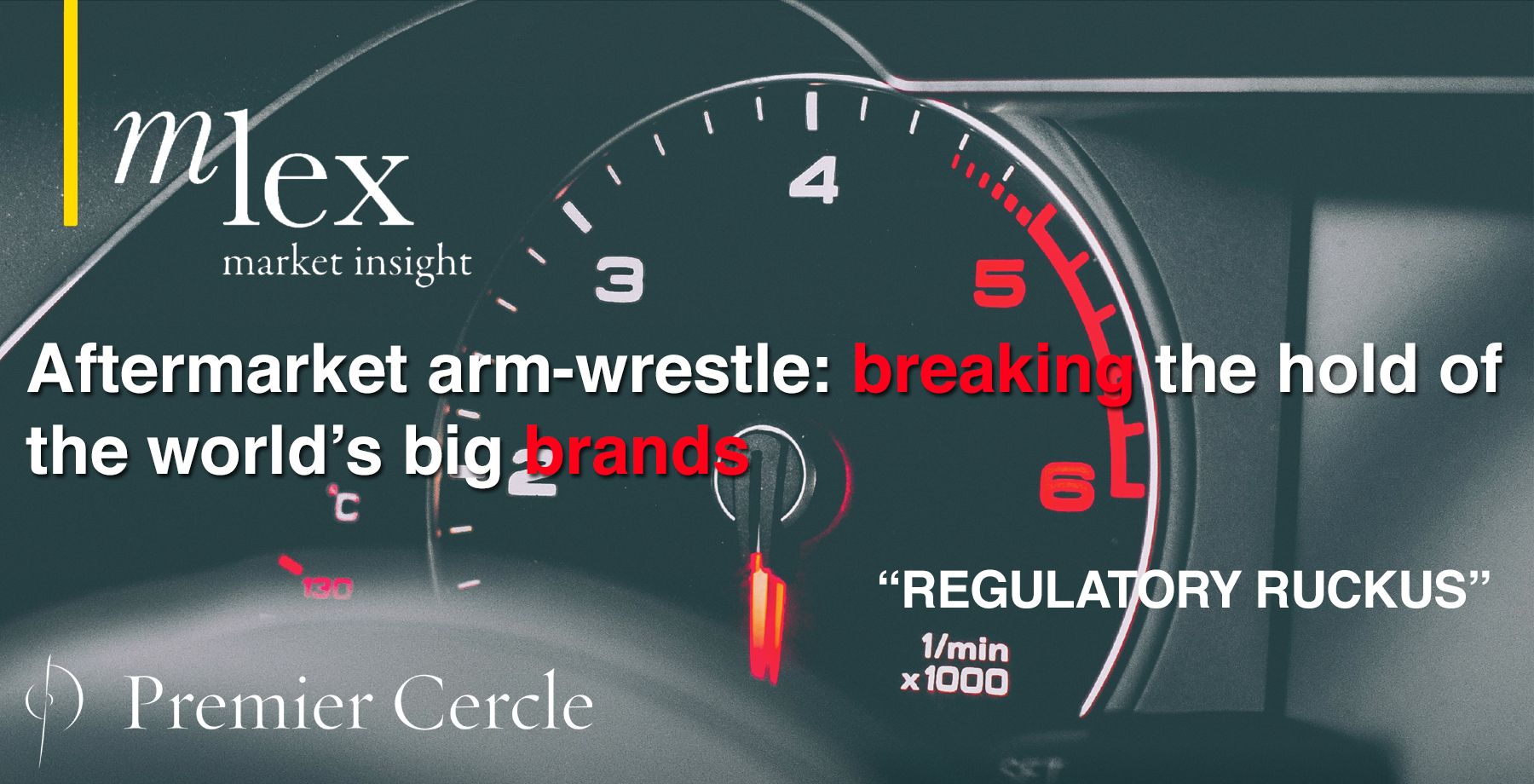 REGULATORY RUCKUS
In June 2016, CADE investigators recommended that Fiat Chrysler, Ford and Volkswagen be fined, saying that the three carmakers' IP rights in the aftermarket should be ruled invalid because they blocked independent manufacturers from operating in that market.
Yet the regulator's internal tribunal — operating independently of its investigators — saw things differently, ultimately scuttling the inquiry in what became a clear victory for the carmakers. Anfape challenged that decision by filing a motion for clarification, a purely procedural appeal that the agency wound up rejecting in April.
Yet although CADE ultimately dismissed the case, Anfape's arguments will resonate with independent car repairers worldwide.
Anfape accused the three carmakers of hindering independents from operating in the spare parts aftermarket by filing court actions to suspend their operations. The carmakers argued that the parts manufacturers' activities had been illegal. That, in Anfape's view, amounted to an attempt to shut down competition. It suggests that the association is focusing its efforts on attempting to move the case away from IP and more squarely into the realm of competition.
But whether it will succeed remains unclear, and none of the options now on the table offer the auto parts body a swift resolution.
Anfape could file a fresh complaint with CADE, presenting new evidence. Or it could kick off a new court battle over CADE's earlier decision — an unlikely course of action, given that its chances of victory are understood to be minimal.
The association could also file a suit directly against Fiat Chrysler, Ford and Volkswagen. Or it could seek a legislative solution by proposing an amendment to Brazilian patent law — something that would involve lobbying the Secretariat for Productivity Promotion and Competition Advocacy.
As things stand, CADE is understood not to have received a new complaint from Anfape, suggesting that the association's campaign may not have run out of revs, but that it is stuck at a crossroads.
It came as no surprise that conglomerates operating in South Korea weren't immune to anticompetitive practices designed to squeeze independent operators out of the lucrative service and repairs aftermarkets. What was more startling was that the country's competition regulator hadn't clamped down on the practice.
That changed earlier this year — and, perhaps unexpectedly, it wasn't the country's powerful automobile industry that prompted the watchdog to start issuing fines. It was the servicing of high-tech equipment used in hospitals that caught the attention of the Korea Fair Trade Commission, or KFTC.
Nor was it a Korean business that incurred the regulator's wrath. German technology conglomerate Siemens was found to have excluded smaller competitors from the maintenance aftermarket for equipment used in computed tomography scans — that's a CT scan — and magnetic resonance imaging, or MRI.
The KFTC found that Siemens had offered hospitals opting to use independent service-repair providers less favorable conditions — in terms of the speed of delivery, function and price — for service keys needed for equipment safety management and maintenance. The regulator also found that the company had sent notices playing up potential safety hazards of signing the dotted line with independent repairers, and even floated the suggestion that independent repairs may infringe copyright.
All this, the KFTC concluded, amounted to the company using its market power to create a monopoly in the CT and MRI maintenance markets. And Siemens, the company at the top of that food chain, was to blame.
Apparently, the German manufacturer of hospital equipment hadn't taken too kindly to independent repair services when they started popping up at the end of 2013, providing repairs without the company's blessing. And Siemens' assertive posture appeared to have worked. Despite the emergence of indie repair companies, Siemens still controlled 90 percent of the market in 2016.
This prompted the regulator to take action to remove the heightened barriers of entry that led to two out of its four competitors going bankrupt. The KFTC ordered that Siemens provide hospitals access to the service software that's essential to their maintenance of CT and MRI machines — within 24 hours and at a minimum cost — and that it notify hospitals of the change.
Then there were the penalties. The KFTC issues corrective orders and fined Siemens 6.2 billion won ($5.5 million). It was a message not just to the company involved but to others who may have been tempted to throw their weight around in South Korea's aftermarkets.
It's understood that the KFTC is continuing to monitor the repairs and service industries for other cases of abuse and it's set to lay down the law if another such case emerges.
On paper, the parallels between car workshops demanding that manufacturers supply them with data and parts needed to repair vehicles and a long-running dispute in Europe between independent watch repairers and luxury watchmakers are obvious. After all, both cases center on the increasing dependence of independent workshops on data and parts to make any type of repair. Attempts to stymie the flow of information and spare parts would hurt the independents' ability to make money in the after-sale repair and maintenance business.
Surely, there must be strict rules in place to prevent such anticompetitive practices — whether the repairers in question are hunched over a magnifying glass to fix a watch or mechanics looking at cars on a vehicle hoist.
Indeed, in Europe, such rules exist. But they come with a couple of catches. Firstly, the regulation can be industry-specific; secondly, it allows some leeway to allow brand names to defend their image. And this is where the link between watches and cars becomes controversial.
For the car market, specific EU legislation dating to 2007 obliges car makers to provide data to independent repairers. Another set of EU rules spells out conditions for "vertical agreements" — arrangements between manufacturers and distributors. This regulation affects the watchmakers.
The vertical-agreement regulation, last updated in 2010, allows manufacturers to impose strict quality rules on shops that are part of "selective repair systems." This means luxury-goods makers can restrict access to data and spare parts to select shops in a network to preserve what a 2017 EU court ruling described as the "brand image and aura of exclusivity and prestige attached to those luxury products."
The ruling was a deep disappointment to the Brussels-based European Confederation of Watch and Clock Repairers' Associations, which filed a complaint against watchmakers at the EU's competition department in 2004. The confederation argued that the fate of hundreds of watch-repairers was in the balance due to the refusal of the manufacturers to supply parts.
That complaint led to a lengthy and detailed court process that placed the world of prestige European watches at center stage — and it wasn't just horologists and MLex journalists taking an interest. The issue forced judges to compare and contrast the watch repairers' arguments with those of independent car mechanics.
But first, a spoiler alert for independent car repairers in Sydney, Singapore and São Paulo: the watch repairers' legal calvary didn't pay off. What's more, the parallel between the aftermarket for cars and watches isn't one that the EU courts appear to be buying.
read the complete report here